Feeling stuck on that hamster wheel? In your career right now, do you want to move up, move on or set up your own business?
My new book, Break Free From Your Hamster Wheel, can serve as your GPS to break free and strike out in a new direction, starting with the crucial start-point – developing the correct mindset to decide to act! This is followed by detailed, practical advice on how to create your action plan to move ahead.
---
Kitabımın Türkçe basımı Çemberi Kırın – Kariyer Yolculuğu çıktı! Göz atmak ve satın almak için tıklayın: Çemberi Kırın
---
Break Free From Your Hamster Wheel
My purpose, my strong why: Helping professionals to act, empower, and teach, let them feel resourceful, sustainable.
I wanted to share with everyone my own experience, my journey and my learnings along the way which helped me to stay afloat and find my own direction even though sometimes it gets tough. This is where the idea of writing this book was born.
Using this interactive book, you will:
Become clearer about your values, strengths and skills
Enhance your visibility and credibility
Create new habits and routines
Use selfbelief affirmation techniques. Yes, you can do it!
Address and overcome fear and stress
Analyse your network and create your 'board of directors'
Make effective use of LinkedIn as your primary networking tool
Create your own action plan to follow
Break Free From Your Hamster Wheel gives you all the tools you need to develop and implement your break-free plan.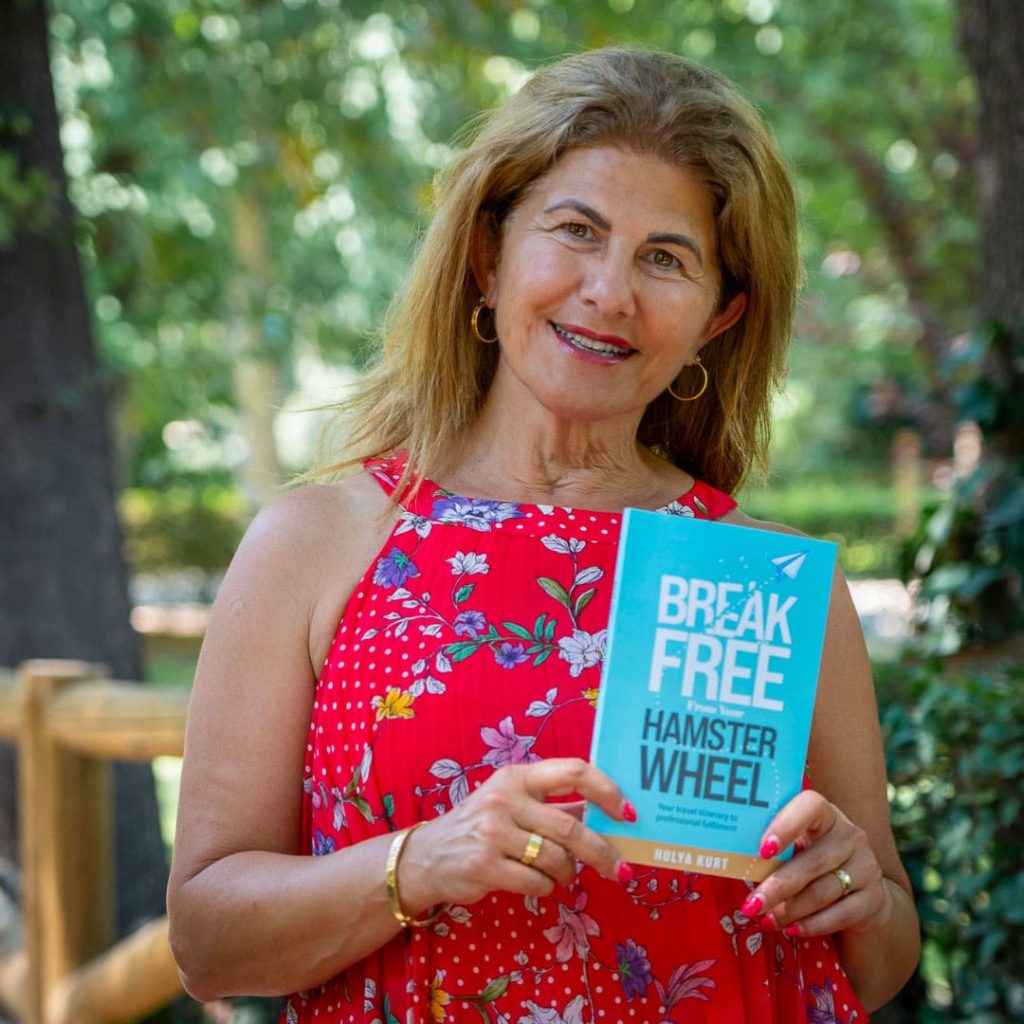 Book Review by Anjali Nolkha
It is never easy when we want to change something around us or related to us. Generally, we just take advice from someone but they rarely understand the point exactly from that level from where we are seeing. So, at that moment we need a place where everything is balanced and all the positive and negative points are clear! Let's read on this, introducing HULYA KURT's BREAK FREE FROM YOUR HAMSTER WHEEL. The cover page very well establishes the connection with the content.
•The book is about implementing something that you have wanted for a very long time but due to certain limitations, you were never able to go at that peak. It will give a correct way to achieve that part of your life. The author has told ways to reach there by implementing things step by step but before that, you should search for that point where you want to be. The book helps you to search for that point and then makes you ready to accept that challenge and fulfill your dream! It will be GPS in locating the aim and then procedure to shoot at the point. It is full of words that will force you to achieve that part and satisfy your mindset.
The book will make you explore yourself and make happiness inside of yourself! Read and become the best version of yourself!
•The book is very well written describing every point that is necessary for achieving that height. The author's language is simple and will help you to search for the best. While reading and following the words you can see that change.