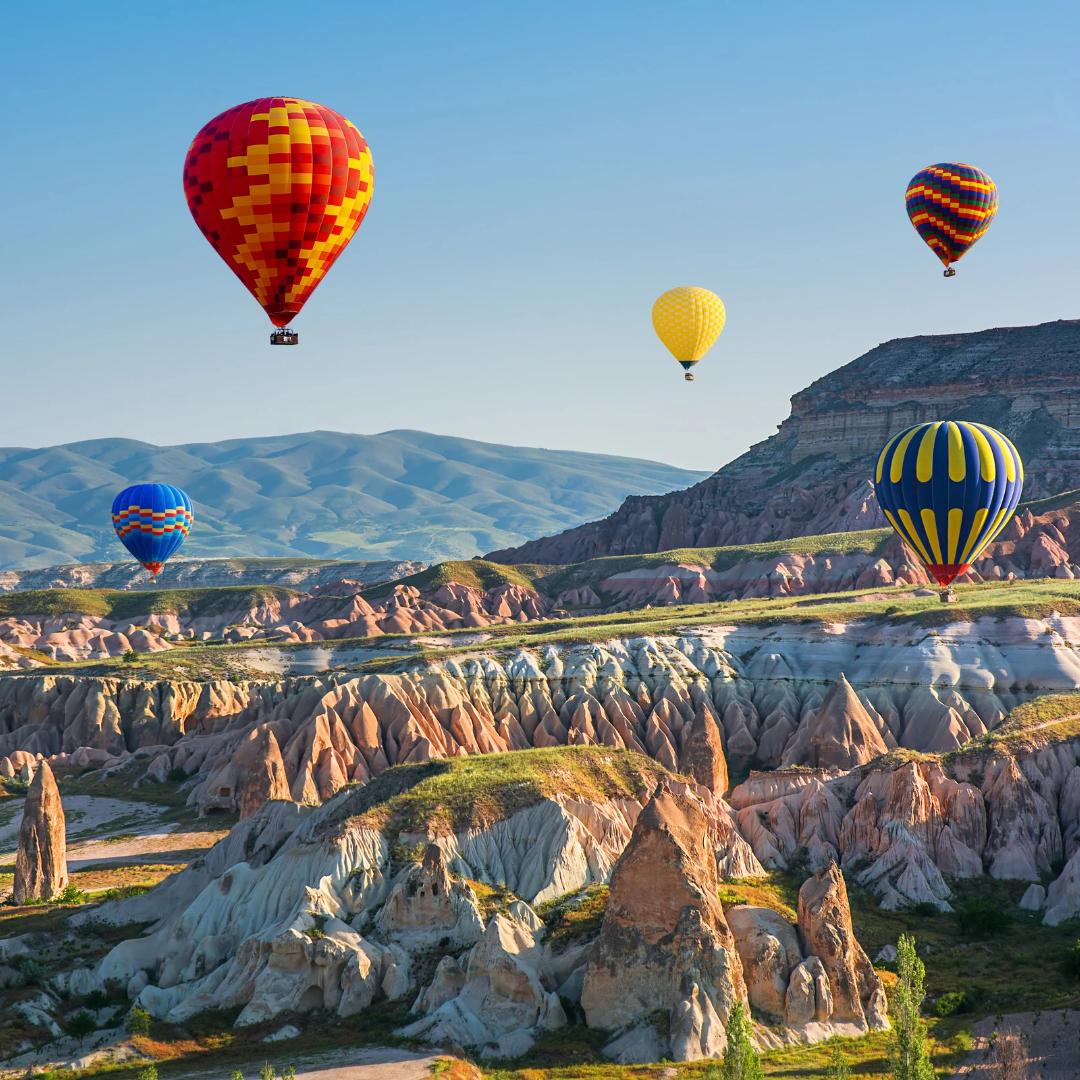 ---
Join us for an unforgettable experience of self-discovery, relaxation, and personal growth. Set amidst the breathtaking landscapes of Cappadocia, this retreat offers a unique blend of immersive workshops, rejuvenating activities, and cultural experiences. Prepare to break through your limitations, unleash your greatness, and find balance in your personal and professional life.
This authentic 3 nights & 4 days experience prices start from 1590 chf. Flexible payment & installment plans are available. Limited spaces, hurry up!
---

Cappadocia's Path to Limitless Self – Retreat Programme
28th of September – Arrival Day
As of 15.00 – free time , SPA , nature walks
18.00 Welcome drinks – getting to know each other.
19.00 : Program overview , dinner
29th of September
07.30 – 08.00 Yoga
08.00-09.00 Breakfast
09.00 -12.30 Awaken to your Infinite/Limitless Self with the power of your senses
An immersive multi-sensory experience of the body & mind, reboot & recharge yourself, breakthrough your limitations & unleash your greatness. Step into a musical journey of deep self-renewal, that lasts.
12.30-13.30 Lunch
13.30-14.30 nature circle – sharing career goals
14.30- heading back to hotel
15.00- 17.00 Workshop Drive and Thrive your career
17.00 : FREE TIME / SPA
18.30 – 19.30 : Networking drinks
19.30 : dinner potential folklore dance show , dancing
30th of September
Hot air balloon – early start (needs to be reserved well in advance )
10.00 -12.30: Continuation of career workshop / mix with conscious music code
12.30-13.30 Lunch
13.30 -14.00 Team games
14.00-17.00 : The 4 Dimensions to balance Business, Joy & Purpose
Discover how to embrace your authentic self & unleash your full potential.
17.30-19.30 : Free time
19.30 : dinner
21.30 : cacao ceremony/ Yoga Nidra
1st of October
07.30-08.30 Yoga
09.00 – 10.00: Breakfast
Depending on departure time , various activities
What is Included?
All the workshops in the programme & hotel room
Full Board; breakfast, lunch and dinner
Coffee, tea and water in between workshops / events
Transfer from Kayseri Airport included if we can arrange some people together
SPA & Hamam (Turkish Bath)
What is not Included?
Flights
Hot Air Baloon
Any other extra curriculum or eating outside the hotel

3 Key Takeaways from the Retreat
Self-Discovery and Empowerment: Through immersive workshops and experiences, you will gain a deeper understanding of your true potential and break through limitations. You will learn to tap into the power of your senses, embrace your authentic self, and unleash your greatness. Discover new dimensions of yourself and cultivate a sense of empowerment that will positively impact all areas of your life.
Balancing Career and Personal Life: The retreat offers specialized career workshops and strategies to help you drive and thrive in your professional journey while maintaining a healthy work-life balance. Gain valuable insights on how to harmonize your career aspirations with your personal well-being and find fulfillment in both domains. You will leave with practical tools to navigate your career path with intention and joy.
Connection and Community: The retreat provides a supportive and inspiring environment where you can connect with like-minded individuals. Through team games, networking events, and shared experiences, you will forge meaningful connections and expand your professional network. The connections made during the retreat can offer ongoing support, collaboration, and new opportunities for personal and career growth.
These key takeaways will empower you to embrace your infinite self, find balance, and create meaningful connections. The Cappadocia Retreat will equip you with valuable tools and insights that you can apply long after the retreat ends, enabling you to continue your personal and professional growth journey with confidence.

Why Cappadocia?
Unique natural landscapes with cone-shaped rock formations and fairy chimneys.
A serene and tranquil environment for relaxation and introspection.
Hot air balloon rides for a magical and breathtaking experience.
Rich cultural and historical significance, including ancient churches and underground cities.
A well-established wellness and spa culture for rejuvenation.
Authentic Turkish cuisine to savor and enjoy.
Embark on a journey of self-discovery, empowerment, and rejuvenation in the breathtaking landscapes of Cappadocia. Join us for an unforgettable experience that will leave you inspired, motivated, and equipped with the tools to create a life of fulfillment and success.